How To Plan An Engagement Party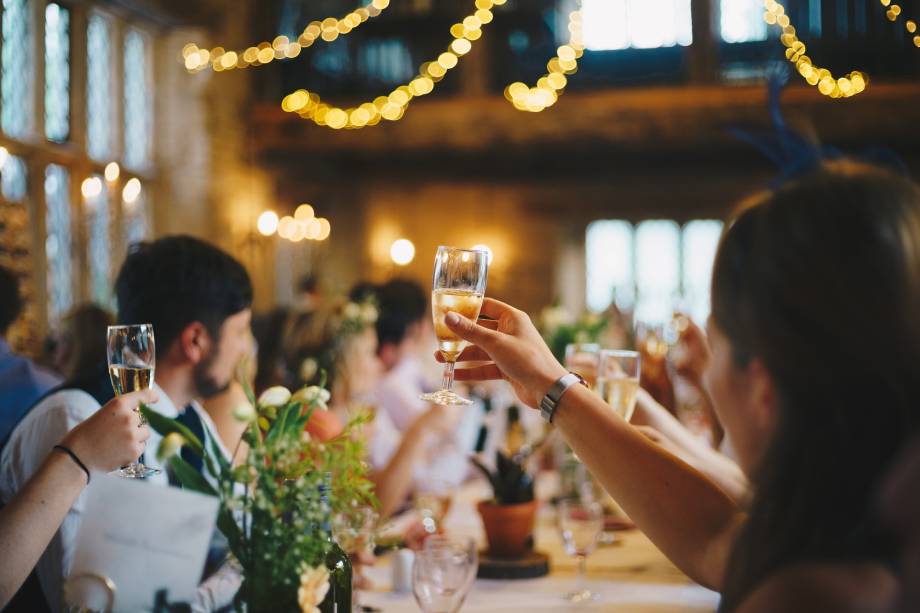 Congrats, you're engaged!
Being engaged is an exciting time for you and your partner. As all the happy messages from friends and family pour in, it's worth considering throwing a proper celebration for your upcoming nuptials. That's right, we're talking about an engagement party.
Throwing an engagement party is a fantastic way to share the joy with your loved ones and also gives you the chance to flex your event planning muscles — a skill you'll need for your wedding!
Of course, you don't get engaged every day, so if you're wondering how to plan an engagement party, fear not. Unique Party Shop isn't your typical party shop, we're your one-stop shop for all things party planning, from costumes to confetti. That's why we developed an engagement party checklist.
In this comprehensive guide, you'll find everything you need to know about throwing the perfect engagement party from the moment you say 'yes' to when you and your fiancé ride off into the sunset.
Before the event
Once the dust settles on your exciting announcement, you can start getting serious about planning your engagement party. One of the first things you need to consider is who will host the party.
Traditionally, the bride's family takes the lead, but given that more younger couples are choosing to write their own rules, there's no pressure for either family to take on the responsibility solely — especially when you consider factors like cost! It might even be worth keeping things simple (and stress-free) between families and hosting yourself.
At this stage, you should also be chatting budget. There's no reason for your engagement party to cost more than your wedding, so be sure to nail this figure with your partner before you start planning. Once that's sorted, it's time to pick a date and venue.
When selecting a date, give yourself enough time to get organised. This is also important for your guests — more on them later. While there's no set deadline on when you should have your engagement party, most couples typically have theirs around a year before their wedding.
Choosing the right venue all comes down to the vibe you and your partner want to have on the day. For instance, if you both tend to be low-key, consider an outdoor venue or keep things casual by heading into your local park. Or, in contrast, splash out on your special day in a formal, indoor setting.
Next comes the guest list. Practise proper etiquette by only inviting people who will be coming to the wedding. It's important to note here that many venues come with a guest limit, depending on the space size. This could make things easier if you're having trouble nailing down who to invite.
Once you've got your guest list, you can start sending out invitations. Many couples tend to choose invitations that go with the theme of their wedding, but this is up to you. Your invitations should also be sent out well in advance (a month to six weeks before the date) to give your guests enough notice.
Another part of your engagement party checklist is deciding If you and your partner are registering for gifts or are having a wishing well. If yes, this will also need to be written on the invitations.
Once you've set the date
Now that you've got your date and venue booked, now comes the fun bit — choosing a theme and picking out your decor. Like your invitations, many couples choose to keep things consistent and use the same theme or colour scheme you plan to use for your wedding.
Some of the most common themes couples use for their engagements and weddings are:
Romantic
Bohemian
Rustic
Vintage
Modern
Again, depending on your budget or personal style, you might want to keep things simple and low-key with minimal decorations. It's also an opportunity to indulge in DIY and save a few extra bucks! Things like a handmade photo collage or centrepieces can add a warm, fuzzy feeling to the event.
Of course, there are some pieces you'll need to purchase, like balloons and the accessories that go with them. Unique Party Shop has made it easy to shop for whatever you need for your engagement party, from being able to shop by event, item category or even colour.
If you want to have the event photographed or filmed, it's worth hiring a professional photographer or videographer to capture the event, rather than asking a friend or family member to do it. It will not only mean higher-quality content but also allow every guest to enjoy the party.
Other cool bits and pieces to add to your engagement party checklist are fun activities for your guests, like a photo booth or sparklers at the end of the night.
Food and drink are another area you want to consider carefully — it's the number one thing people chat about on the way home! If you've chosen a more formal venue for your engagement party, they may already have an in-house caterer who prepares the meals. All you and your partner have to do is taste and pick.
If you are keeping things more casual or your vendor doesn't offer this, you'll need to book a caterer and purchase disposable cutlery. The type of food you serve should tie into the overall look and feel of your engagement party. For instance, if you were hosting in your backyard, finger food or a buffet may be more appropriate than a three-course meal you'd get in a ballroom.
By now you should also start to receive RSVPs from guests so you can consider any dietary restrictions.
Between the decor planning, you should also look into outfits for you and your partner. As the engaged couple, you deserve to stand out from the crowd. For example, matching your outfits colour-wise rather than wearing traditional white for the bride and black for the groom.
Spending time shopping for outfits for both parents is a simple and memorable way to bring both families together. This is also a lovely idea to do with members of the bridal party, like the best man or maid of honour. These are the people who will play a massive part on your wedding day, so it's important to make sure they feel included.
On the day
The day is finally here! Now is the time to let your hair down and celebrate your engagement. It's important (and proper etiquette) to be at the venue well before your guests so that you can greet and thank them for coming. This means giving yourself enough time to get ready and head to the venue.
It's a good idea to ask bridal party members to get to the venue earlier to make sure everything looks the way it should. After all, the last thing you need to be worrying about is something going wrong.
Now that you're an expert on how to plan an engagement party, all that's left to do is have fun! Start planning your dream engagement party by heading to Unique Party Shop, your one-stop party shop.
---
Leave a comment